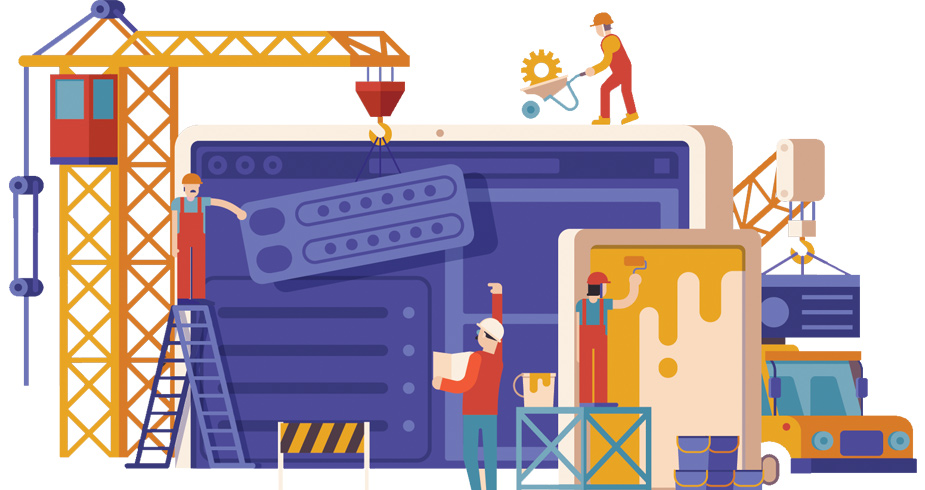 // Web Services
Experienced Web
Professionals
Calgary Web Design
We help any and all sizes of businesses grow their online presence. With online users skyrocketing and reaching record highs over the last couple years, there is no doubt that we live in a world where majority of our consumers are online. Whether you're looking to build a starter website for your business or wanting to drive more traffic to an existing one, our team can help!  
Truly, there are a lot of factors to starting, creating, and maintaining a website. We want your users to have a good experience. Furthermore, having a site that is mobile-friendly will ensure more loyal customers. Did you know that mobile devices generate 54.8 percent of global website traffic in the first quarter of 2021? We do not want you to miss out on those customers!
Even if they do click on your website, how will you make them stay? By making sure your UI (user interface) and UX (user experience) design gives your customers a smooth encounter with your business. What this means is easy navigation, quick response times, and an efficient layout. Indeed, consumers are impatient these days. If a website is hard to understand or hard to navigate, they will lose interest fast. 
Lastly, you want your website to be accessible to everyone. 3.21 million Canadians are hard of hearing, and 357,000 people are profoundly deaf. 1.5 million Canadians have vision issues. People with visual and hearing impairments deserve to have a wide choice of websites as well! Click here to find out more about how to make your website more easily accessible. 
We help businesses and individual entrepreneurs grow their brand awareness and increase company revenue through digital channels. Contact our team to book your free discovery call today!
// Enterprise Web Solutions
Calgary Web Design
Your website is the foundation of your business when it comes to online channels. Whether you have an existing website or you're in the market to build a new one, it's crucial to have something that is functional and easy to use.
Another important factor is your content strategy. Without any content on your pages, your website will not rank very well. In fact, your site may not rank at all! 75% of people will not scroll to the second page in Google, meaning that being on the first page is a must. Creating a content strategy is a must for any business to improve their search rankings and reach the appropriate audiences.  
Additionally, your content has to be engaging. You want to draw people in and stand out above the competition. Moreover, you want to know what your audience is coming to your website for. Your content should be focused so your target audiences can feel right at home. Sometimes incorporating these factors is challenging. However, we at Nexix Inc know all about website design and optimization, and we would love to help you.
Speaking of your brand online, our Calgary web design and digital marketing professionals are here to cover all your online marketing needs. Whether you're looking to generate more leads or increase brand awareness, our experts are here to help you!
// Web Lifecycle
Our Website
Process
At the start of any project, we will assign a project manager. They will begin with a discovery session to analyze your current environment to understand your requirements and long-term goals. During this time, we will build out a sitemap to get a look and feel of how the menu structure will flow. After completing a sitemap, our design team will utilize your logo and branding colours to come up with a couple different wireframes to showcase a design. Next, they will move on to content and development.
At this point, you've either provided us with your content or have worked with our content writer to develop a content strategy. During the web development, you can kick back and relax as our developers are in control. Your project manager will stay in touch throughout this phase to answer any questions you may have and keep you up to date with progress.
Before launching any website or application, we do multi-stage testing to ensure all pages, buttons, links and forms are working properly. Once all internal testing is done, your project manager will reach out to schedule a closure meeting to thoroughly review the entire website and identify any changes or updates needed prior to deploying the website.